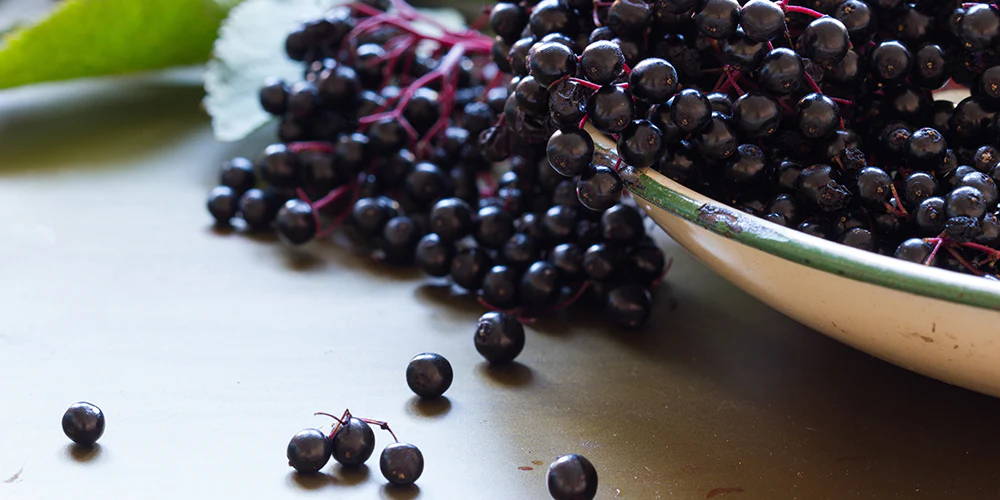 Elderberry for Colds & Flu?
This tart-tasting berry reaches far beyond the jam jar. Elderberry (scientific name Sambucus nigra) has been used as a natural health remedy for years. It is resurfacing as a cold remedy as research catches up, but historically the flowers and leaves have been used for pain relief, swelling, and inflammation. It was also used to stimulate urine production, induce sweating and reduce fever.
The bark of the elderberry bush was used as a diuretic laxative and to induce vomiting, whereas the dried berries and juice have been used for influenza (colds and flu).
Elderberries are: high in vitamin C, dietary fibre, phenolic acids, flavonols and anthocyanins. Emerging research is beginning to support what natural health practitioners have been saying for a while--- people who have taken elderberries have higher levels of antibodies against the influenza virus, showing that not only may the berry be able to treat flu symptoms, it may also be able to prevent influenza infection or reduce the length of time for the flu virus to run its course.
This is partly due to a specific protein substance in elderberries (hemagglutinin protein), which helps to stop a virus' capability to replicate by inhibiting its ability to penetrate the cell wall, thereby preventing the virus from causing infection if taken before exposure. If elderberries are taken after infection, that keeps the virus from spreading, which reduces the duration of influenza symptoms.
Elderberries are a source of many nutrients.
Vitamins: A, B1, B2, B6, B9, C, and E

Trace elements: copper, zinc, iron

Minerals: potassium, calcium, magnesium

Phytochemicals: carotenoids, phytosterols, polyphenols
Who Can Take Elderberries?The great thing about elderberries is that they are generally safe for most people. Do not eat the raw seeds as they can cause nausea and vomiting, and avoid the sugary jam, juice and syrups if you're looking for flu and cold prevention (the excess sugar negates the goodness). Consult with your healthcare provider or dietician if you have specific questions about how a dietary supplement could benefit you and your family or before changing your diet or exercise routine.
So Many Choices What Elderberry is right for me?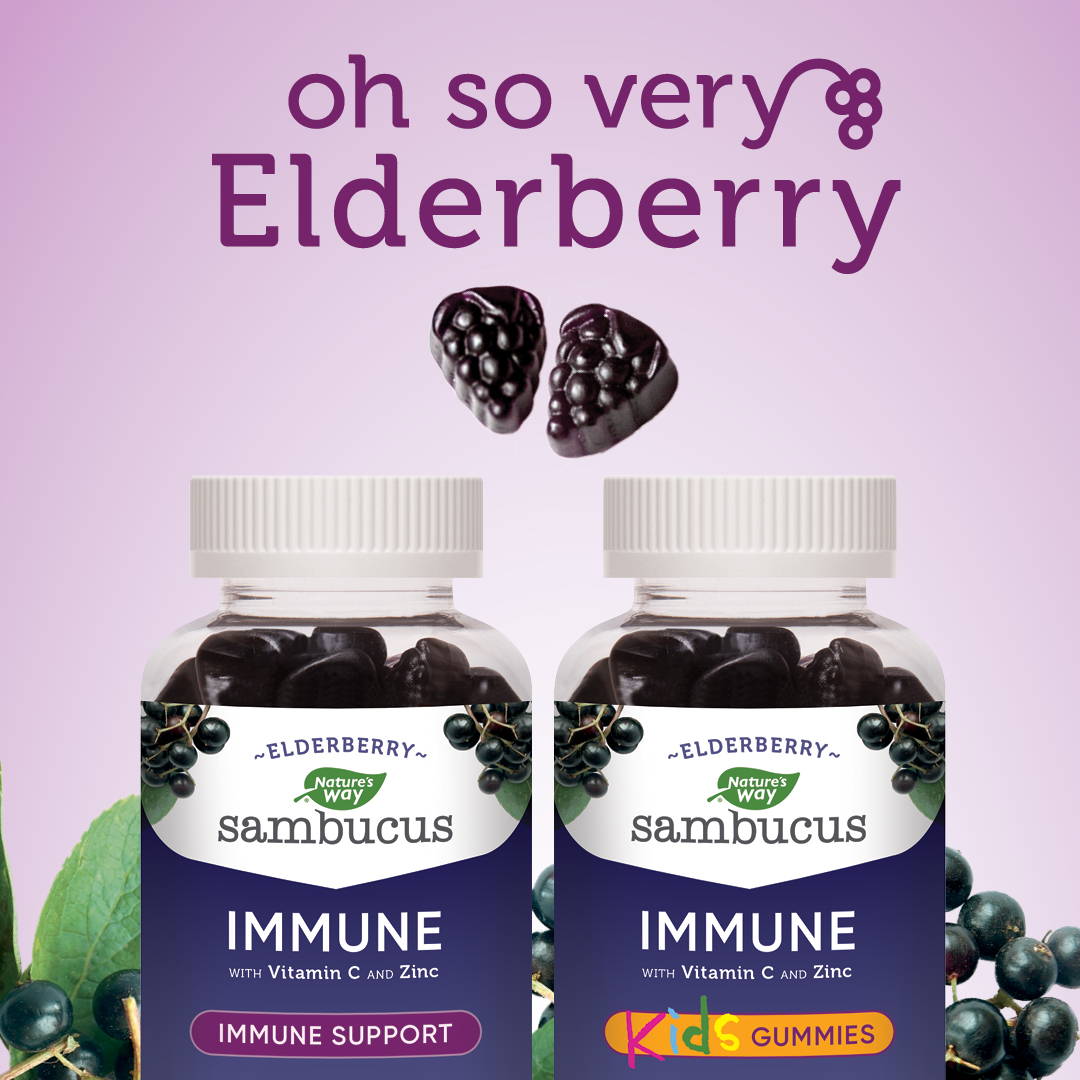 There are several elderberry products we can choose right off the shelf. Nature's Way Sambucus products use only berries that are 100% hand-picked and inspected for optimal ripeness from fruit packed with elevated levels of naturally occurring anthocyanin – a subgroup of flavonoids with beneficial antioxidant properties. Nature's Way Sambucus elderberry products are created using pure, high-quality ingredients backed by rigorous testing. They come in various forms – liquid, capsule and gummy – to give you and your family options. Here are just a few examples
Delicious tasting Sambucus Cold and Flu Care Kids Gummies contain 50 mg of Black Elder, 90 mg of Vitamin C and 7.5 mg of zinc for each serving of two gummies. The addition of Vitamin C and Zinc also provides immune support. Bonus? It's a taste your kids will love, and the gummies are gluten-free and gelatin-free.
Sambucus Immune Support Gummies pack the same goodness traditionally used in herbal medicine to relieve cold and flu symptoms and provide immune support. Plus, Sambucus Immune Support Gummies are delicious! With 50 mg of Black Elder, 90 mg of Vitamin C and 7.5 mg of zinc in each serving,
Sambucus Original Syrup is a delicious tasting syrup traditionally used in herbal medicine to help relieve symptoms of cold and flu by promoting sweating to help relieve fever caused by common colds and flu and relieving symptoms such as coughs, sore throat and mucus buildup of the upper respiratory tract. The elderberry extract is standardized to 14% antioxidant flavonoid called anthocyanins.
Sambucus Elderberry Capsules are an effective herbal medicine to help relieve symptoms of colds and flu, including cough and sore throat. This convenient capsule form contains medicinal ingredients from the fruit and flower of the elderberry (Sambusus nigra) plant. Sambucus Elderberry Capsules are non-GMO Project Verified and also Tru-ID tested.
---