Herby Lentil Salad with Spinach and Peas  ( content by Alive Magazine)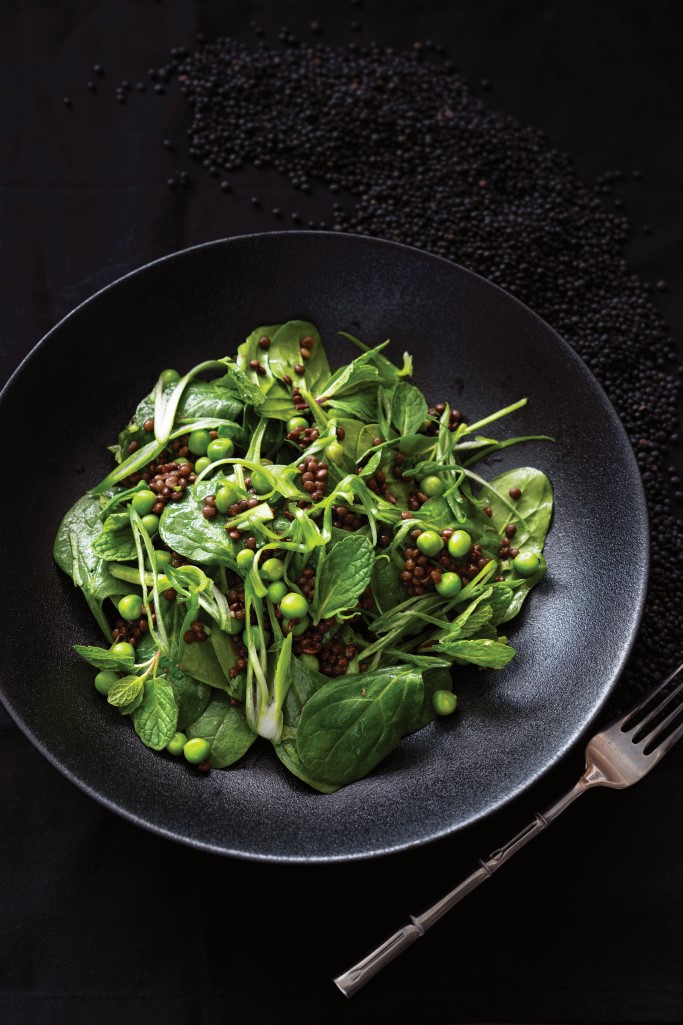 Symbiotic bacteria called Rhizobium invade the roots of lentils and legumes such as peas and beans, allowing them to "fix," or use, nitrogen. This also improves the quality of the soil they grow in.
1 cup (500 mL) black beluga or French Puy lentils
1 bay leaf
1/4 cup (60 mL) green peas
1/4 cup (60 mL) finely sliced cilantro
1/4 cup (60 mL) finely sliced parsley
1/4 cup (60 mL) finely sliced mint
1/4 cup (60 mL) red wine vinegar
1 Tbsp (15 mL) olive oil
1/4 tsp (1 mL) salt
3 green onions, finely sliced
1 cup (500 mL) baby spinach
Pick over lentils, removing pebbles or debris, and rinse. Bring a large pot of water to boil and add lentils and bay leaf. Reduce to medium-low and cook lentils at a slow simmer for 20 minutes, or until tender but not mushy. Drain and rinse with cool water to stop the cooking process.
In separate pot, blanch green peas for 2 to 3 minutes; drain and rinse with cool water.
In small bowl, combine herbs, vinegar, olive oil, and salt.
In large bowl, place cooked and cooled lentils. Pour dressing overtop lentils; add green onions, peas, and baby spinach; and toss together. Tip out onto large shallow platter to serve.
Serves 4.
Each serving contains: 95 calories; 5 g protein; 4 g total fat (1 g sat. fat); 11 g total carbohydrates (1 g sugars, 4 g fiber); 162 mg sodium
---